Time To Replace Your AC Unit?
Call Us Today For Your FREE Estimate
Air Conditioning Replacement
Call Us Today to Get Your Free AC Replacement Quote  (615) 538-0500
DECIDING TO REPLACE AN ENTIRE AIR CONDITIONING IS A BIG DEAL… CALL US TODAY & WE WILL PROVIDE A FREE CONSULT.

THE BRENTWOOD HVAC REPAIR PROS WILL HELP YOU MAKE THE BEST CHOICE REGARDING YOUR REPLACEMENT UNIT.

We will ensure that you are getting the best service based on you and your family's needs as well as your budget!
AC REPLACEMENT STARTS WITH THE NEEDS OF THE HOME
ARE EXPERIENCING PROBLEMS WITH YOUR CURRENT AIR CONDITIONING SYSTEM?
IS THE AC UNIT COOLING SOME ROOMS MORE THAN OTHERS?
HAVE YOU NOTICED A SPIKE IN YOUR ELECTRIC BILL?
WE TAKE ALL OF THESE THINGS INTO CONSIDERATION WHEN EVALUATING YOUR HOME AC REPLACEMENT NEEDS AND DECIDING ON THE BEST AC UNIT TO INSTALL.
Evaluation and FREE Estimate
A Brentwood HVAC Repair Pros advisor will come out and measure your home's system performance.
From there we will make recommendations based on our findings.
Your advisor will then explain their recommendations, including costs and the changes that need to be made to your system.
You will be informed of which Technician will be installing your new system.
Your advisor is there to answer any questions you may have, so ask away!
Installation
A routine installation will only take about a day and can be scheduled with your Brentwood HVAC Repair Pros advisor.
We will work with your schedule.
We come prepared to service your home safely.
For any installation, repair, replacement or upgrade we will use drop cloths and shoe covers to protect to your carpet and wood floors.
In addition, all and any debris we create while doing the job will be removed promptly.
Final Check-Up
After an installation is complete we test and re-test.
We want to ensure that each room in your home is at the comfort level you desire.
We will walk you through your new system, explaining maintenance and answering any questions you may have.
We will continue to follow up to make sure that your new air conditioning replacement unit is perfect for your comfort needs.
Rebates and Tax Credits For Your AC Replacement
Many people don't know that local power companies and the federal government have incentives that help improve the quality of your air conditioning system. There is a large Federal tax credit for a replacement. Learn more about other tax credits and rebates available CALL us at (615) 538-0500 to see what you may be eligible for.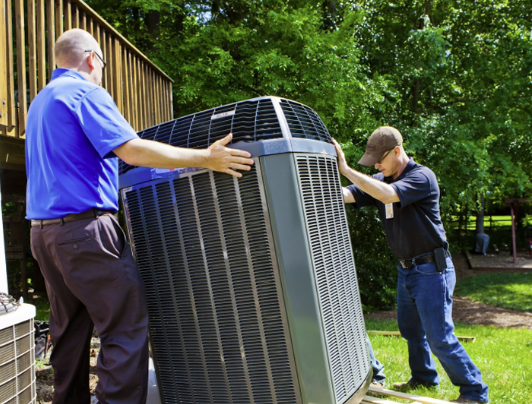 Call Us Today to Get Your Free AC Replacement Quote  (615) 538-0500